Menu sản phẩm
Hãng sản xuất
Hổ trợ trực tuyến
Ms Liên

lien.ans@ansvietnam.com

0902.937.088

Mr. Hương

huong@ansgroup.asia

0984 359 334
Lượt truy cập
| | | |
| --- | --- | --- |
| | Đang online | 3 |
| | Lượt truy cập | 148083 |
Advanced Motorized Test Stand Model ESMH-DC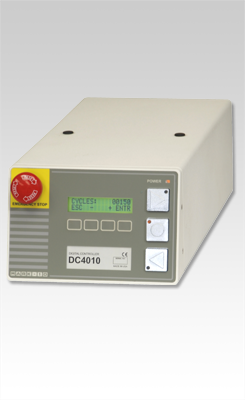 Loại sản phẩm: Motorized Test Stands Mark 10 Vietnam
Mã sản phẩm: Advanced Motorized Test Stand Model ESMH-DC
Nhà cung cấp: Anh Nghi Son
Xuất Xứ:
Hãng sản xuất: Mark-10
Giá : Vui lòng liên hệ
Series DC advanced digital controllers are designed to expand the functionality and programmability of basic motorized test stands, including models ESMH, TSFM500/TSFM500H, and TSTM/TSTMH. These controllers are available with new test stands (more info), or may be used with any existing test stands of the above models that are already in use. Simply plug in the Series DC controller. No setup is required.

These highly sophisticated controllers offer PC control capability, extended speed ranges, programmable cycling, auto return, overload protection, and more. See the Features / Specifications list below for further details.
Computer Control
An RS-232 port is provided to interface with a PC. The ESMH-DC accepts a number of commands pertaining to test stand motion and force gauge functions*. The following additional items are required for PC control:
- Series 7/5 force gauge or Model 7i/5i indicator
- 09-1056 serial cable (see Optional Equipment)
- 09-1162 multi-function cable (see Optional Equipment)
Overload Protection
Protects a force or torque gauge against overload. The user programs the desired percentage of full scale of the gauge. Adjustable analog output voltage setting allows the controller to interface with virtually any force or torque gauge with analog output. Requires one of the above mentioned instruments and 09-1162 multi-function cable.
Auto-return
The crosshead moves to a limit switch, force (requires one of the above mentioned instruments and 09-1162 cable), or travel position (TSTM only), stops, and reverses direction at full speed to the other limit switch, force, or travel position.
Cycling / Dwell
Time The crosshead moves up and down between limit switches or force set points (requires a Series 4, 5, or 7 force gauge). Configurable up to 99,999 cycles. Dwell time allows the operator to program the amount of time, up to 9,999.9 seconds, in 0.1 second intervals, for which the crosshead pauses at limits.
Programmable Button Functions
Expands UP and DOWN button operation to three user-configurable modes:
1. Maintained (standard): short push produces continuous motion until STOP is pressed
2. Momentary: crosshead moves only while the button is pressed
3. Auto: short push produces maintained motion, while holding the button down will produce
Independent Up and Down (CW and CCW) Speeds
Programmable independent speeds for up and down directions (CW and CCW for torque test stands)
Selectable speed units of measurement (in/min & mm/min)
Password protection
Prevents unauthorized changes to test parameters
Broad speed range (see below)
Speed accuracy: ±0.2% of setting, ±0% variation with load
CE mark
Universal power supply: 80-250 VAC
Mounting holes for bench mounting
* Models ESMH and TSFM500/TSFM500H force test stands do not contain integrated travel indicators. Travel information available only through an external digital travel display, requiring an additional serial port on the PC. For an integrated solution with full PC control, including travel distance programming, see test stand model ESM303.
Model TSTM/TSTMH torque test stand is available with an integrated angle encoder to enable full PC control, including travel distance programming.
Model
Description
US Price
DC4010
Advanced digital controller for ESMH, 110V*
$2,100.00
DC4030
Advanced digital controller for TSFM500 / TSFM500H, 110V*
$2,100.00
DC4040
Advanced digital controller for TSTM / TSTMH, 110V*
$3,200.00
TST002
Integrated angle encoder for TSTM / TSTMH, installed as retrofit
$600.00
09-1162
Multi-function cable, gauge/indicator to controller
$125.00
09-1056
Serial cable, test stand to PC
$30.00
RSU100
Communication adapter, RS-232 to USB
$125.00
*All models contain a universal power supply (80 - 240V) and include a power cord with US plug. Add suffix 'E' for Euro plug, 'U' for UK plug, or 'A' for Australian plug. Ex: DC4010E, DC4020U, DC4040A Series DC controllers include a test stand connection cable, power cord, and user's guide.